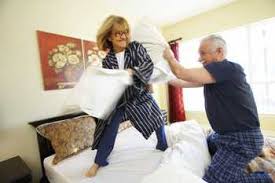 The "stay-at-home" orders are slowly starting to shift as we move from "red" to "yellow" to "green." Still, it remains challenging to eat out or go someplace for a date night. Even before the current crisis you may have felt the challenge of going out for a date night due to financial constraints. But, no fear. You can have a date night without even leaving home. In fact, you can have a date night in every room of your house. Here are a few date night ideas for each room.
The Dining Room Date. Of course, you could have a dinner date in the dining room. Make it interesting though. Have a candlelight dinner with romantic music playing. Order your food through DoorDash or UberEATS.
The Living Room or Family Room Date. Pull out the cards and board games to enjoy a game night date. Or, rent a movie and have a movie date night. Don't forget the popcorn, chips, and drinks for game dates or movie dates.
The Kitchen Date. The kitchen date involves cooking together. Think about a food you have always wanted to try or a food you really liked when you ate it in a restaurant. It might be a main dish, a dessert, or an appetizer…or one of each. Look up the recipes and have a kitchen date making it. You can even find a cooking class with expert chefs on YouTube to enjoy as a cooking class date night.
The Bedroom Date. You can go all kinds of directions for the bedroom date. You could simply enjoy a breakfast-in-bed date. Or, you could enjoy a candlelight-romantic-massage date night. Or, do the breakfast-in-bed date in the morning and the candlelight-romantic-massage date at night. You can use your imagination for other bedroom date ideas.
The Back Porch. For the more casual date, enjoy an evening on the porch with a ­just hanging out date night. Simply sit together, cuddle up, and enjoy conversation remember fun times from the past and fun times you look forward to in the future.
The Yard Date. Pack a picnic and go into your back yard for a picnic date. Then, lay out the blanket and lay down to watch clouds go by. Or, do it later in the evening and stargaze. Listen the concert of birds and watch the firework of the stars with your spouse. It's a nature's concert date night.
If you want to have an even more unique date night, make it a progressive room date night. Order your favorite meal through DoorDash and then start your date in the kitchen while you wait for the food to arrive. In the kitchen, make your favorite appetizer or dessert together. When the food arrives, enjoy a candlelight dinner in the dining room that includes the appetizer you made. Then move to the family room for a movie. Afterward, enjoy your dessert in the living room. By this time, the sun will have set and the stars come out. Lay on your blanket in the back yard to enjoy God's light show of stars for a time. Finally, end your date in the bedroom with a romantic massage.
What are your ideas for a date in every room of the house?