Everything I Needed to Know I Learned At Dinner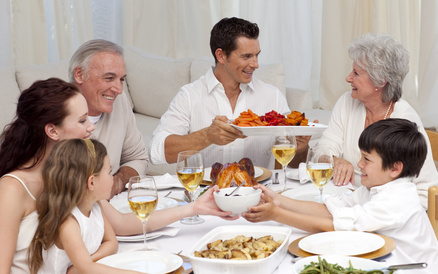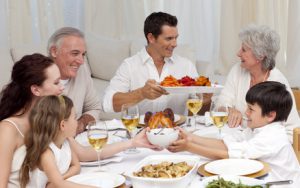 I enjoyed daily family dinners as a child. Well, most of the time I enjoyed family dinners. Sometimes tensions and disagreements cast a shadow over the meal. But I still remember family dinners with great fondness. My wife and I did our best to keep the tradition of family dinners alive in our own family. Looking back, I realize that everything I really need to learn I learned at family dinners. Let me share a few of those lessons with you.
Come to the table when you are called. Opportunity does not wait. At the very least, it grows cold. So, when opportunity calls, respond. Come to the table or you might miss out.
Always begin by giving thanks for the blessings you received and the people who make those blessings possible.
You do not always get what you want or even like. Give thanks anyway. Not everyone is fortunate enough to receive such an abundance; and many people contributed to the raising, harvesting, transporting, selling, purchasing, and preparing that made this blessing possible. Be grateful.
Share. There are others at the table with you. Keep them in mind. Take some for yourself and joyfully pass it along to the others. Share.
Take only what you know you are going to eat. No need to be greedy. If you want more after you finish what you have, you can have more. Each time you get more, take only what you will use.
Remember, there is always enough to go around when each person remains considerate and mindful of everyone else.
Wait your turn. Your favorite dish will make it to you even if you have to wait a bit.
Serve one another. Sometimes the dishes are too hot to pass. In such cases, everyone patiently passes their plate to the person nearest the hot dish. That person scoops the food onto each person's plate while carefully assuring they receive the amount desired. It is an exciting privilege to be deemed mature enough to serve and an honor to be served.
Practice patience. Wait for everyone to get their food before you begin. We are a family, a community. It is polite to wait for everyone before you "dig in." After all, we are eating dinner together. Enjoy it together.
Just because you are upset about something does not give you the right to ruin dinner for everyone else. Remain polite and kind, even if you are upset with the person sitting next to you.
Enjoy the conversation. Don't simple "shovel food into your mouth." Be curious about the other people present. Learn about their day. Converse. (As a bonus, this will also increase your children's vocabulary.)
Ask for what you need rather than reaching impolitely in front of everyone and so intruding into their space and disrupting their composure.
Dessert is coming…but only to those who are grateful for the gift they received, gracious to receive even what was not perfectly prepared, and well-mannered.
Eating as a family proves much greater than simply filling our stomachs with needed nutrients.  It is a microcosm of the larger community. Indeed, family dinners teach us everything we need to know to live a life of honor, grace, and celebration in our world.
*Titled with a "shout out" to Robert Fulghum who wrote the excellent book "All I Really Need to Know I Learned in Kindergarten.