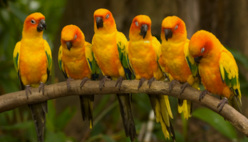 Remember Alfred Hitchcock's film The Birds? Creepy…but recent studies show birds play a very different role in our lives and the lives of our families. For instance, the German Centre for Integrative Biodiversity Research explored the data collected from 6,000 people living in 26 European countries and from a variety of socioeconomic levels. They discovered that the richness of bird species in their living environment was positively associated with life-satisfaction. The greater the bird species in an area, the greater life-satisfaction people in that area reported. In fact, a 10% increase in bird diversity led people to report an increase in life satisfaction equal to the life-satisfaction reported when a person experienced a 1.53 increase in their salary.
You might be thinking, "Birds? What are you talking about? That's crazy!" I know. That was my initial thought as well. But think of the joy you feel when you see the first robin of spring. Last spring, we saw orioles in our neighborhood for the first time and it was genuinely exciting. But don't take my word for it. Another study in 2017 involving 1,023 participants who lived in an urban setting explored the impact of vegetation cover and bird diversity on depression, anxiety, and stress. In particular, experiencing bird diversity in the afternoon decreased participants' experience of depression, anxiety, and stress. Additionally, having 20-30% vegetation cover in an area resulted in enough bird diversity to reduce the severity of depression, anxiety, and stress. "Is it the birds or the vegetation cover?" you might ask. The researchers couldn't say for sure. But a more recent study may shed some light on how to answer that question.
For a study completed in 2020, researchers hid speakers that played a variety of bird songs along sections of a popular hiking trail in Colorado. By using the speakers, researchers could adjust the perceived diversity of bird songs along the trail. Researchers then interviewed hikers about their experience along the trail. Those who experienced a greater diversity of bird songs reported improved well-being. They also reported feeling better about life and about their hiking experience than those who heard fewer bird songs. One of the researchers said they were "kind of flabbergasted" that only 7-10 minutes of exposure to greater bird diversity led to participants experiencing improved well-being. "Flabbergasted. "  I like that word. Frankly, I'm flabbergasted myself.
What does this mean for your family? It means that taking the opportunity to hear bird songs offers another way to enhance your family's happiness. Birds! Not Alfred Hitchcock's birds, but the birds in your own community. Here are a few ideas to gather birds so you can hear their song.
Put some bird feeders in your yard. Include a hummingbird feeder and a finch feeder. Plant some flowers that will attract birds. Then sit down with your family and enjoy the show. Count how many different types of birds you see?
Take a family trip to an aviary. You'll see birds from all over the world and get to listen to their songs. And, you can have great family fun nights at the aviary.
Go for a family walk or hike through a local park. Enjoy your time together in nature and listen for the birds.
You might even purchase a CD of bird songs or download forest sounds filled with bird songs and play it quietly in the background at home. It may not be quite the same as the outdoor experience, but…who knows?
These activities are not for the birds. They are for you and your family. Enjoy the experience and the increased life satisfaction your family will gain as well.