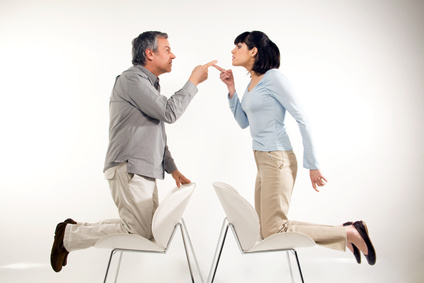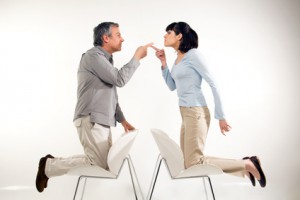 If you live in a family, you know what it means to love someone and be angry with them at the same time. Unfortunately, anger often energizes our communication more than our love. In anger we express ourselves more intensely. The challenge when we are angry is to express our needs in a way that can reveal our love. One "formula" that can help with this involves stating our concern in this way:  "When _____________ happens, I feel ____________ and it would help me if you would ____________." I can imagine the eyes rolling already. It's true. This "formula" can work…but only if we follow a couple of crucial caveats that actually make it less formulaic. Let me explain.
First, the environment you have established in your home impacts its effectiveness. In order for this statement of concern to be most effective, you need to build an environment in which love, adoration, and gratitude are prominent. Take the time to tell your spouse how much you love them. Share moments of simple physical affection every day—a hug, a kiss goodnight, holding hands. Express words of love every day. Tell your spouse you love them. Verbalize what you admire about them.  Verbally express gratitude to your spouse every day. These simple daily actions build an environment in which your spouse knows you love them and are invested in your relationship with them. Now, when you raise a concern, it is embedded within an environment of love, admiration, and gratitude.
Second, the communication "formula" above is often encouraged to replace "you statements." "You statements" generally end of contemptuous, blaming, and accusatory. "You make me so mad." "You never help around here." "You don't know anything." They arouse the other person's defensiveness in response to perceived accusations and blaming. The "formula" above easily slips into another opportunity to make "you statements" of blame and accusation. "When you don't listen." "When you leave dishes in the sink all the time." Instead, we need to begin by giving an objective description of what bothers us and arouses negative feelings. Rather than blaming, describe. Rather than stating, "When you leave dishes in the sink all the time," say "When I come home to dishes filling the sink," or "When dishes overflow the sink." These describe rather than blame. Rather than "When you don't listen," say, "Sometimes when I'm talking to you, you look at your phone. That makes me wonder if you are listening." It's a longer statement, but more descriptive and less mindreading and less accusatory. It takes more effort and requires more thought, but it can help limit a response of defensiveness and encourage a greater ability to hear.
Third, "it would help me if you _________" is a statement of vulnerability. It states that we need something from our spouse. They can help us. It is difficult to express vulnerability. As a result, I've often heard this part of the statement given in a demanding manner or even made to sound like an ultimatum. "I need you to ________" or "it would help me if you __________ before I give up and leave." Demands and ultimatums do not work. We connect in our vulnerabilities.
Finally, accept influence. In order to truly express love even when you're angry, you have to allow the one you love to influence you. Accepting influence begins with the knowledge that your spouse has something important to say. Even though you disagree with them, they may have a good point, an important bit of information. They may even have it right while you have it wrong.  When you begin the discussion with the realization of your spouse's wisdom, insight, and intelligence, you can more easily accept their influence. In addition, keeping your love for your spouse in mind allows you to accept influence simply because you love them.  Those that accept influence know that their love for their spouse is greater than their love of being right or their love of proving a point. That love leads to a willingness to accept influence.
Establish an environment of love, adoration, and gratitude. Describe rather than accuse or blame. Express your need from a place of vulnerability. Accept influence. These 4 practices will turn the "formula" described above into a tool of deeper communication and express love, even in the midst of anger.