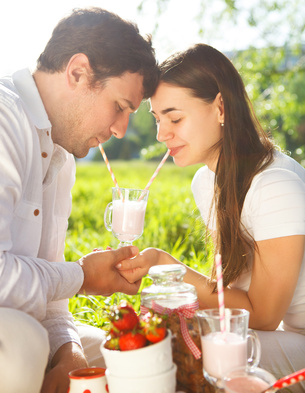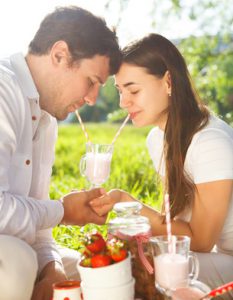 Traditional marriage vows included the phrases "to have and to hold" and "to love and to cherish."  After reading the abstract and a short review of a study on cherishing, I think we need to add another phrase, "to have and to savor" (To Have and to Savor: Examining the Associations Between Savoring and Relationship Satisfaction). The authors of this study defined savoring as the "tendency to attend to and enjoy previous, current, and future positive events." They also noted that savoring consisted of three facets: savoring in anticipation of an event (future), savoring in the present moment (present), and savoring in reminiscence of an event (past). Based on the results of this study of 122 undergraduate students in monogamous dating relationships, all three facets of savoring were associated with relationship satisfaction. Anticipatory savoring, however, had the strongest association to relationship satisfaction. In other words, attending to and enjoying (savoring) positive events and activities with your spouse leads to a happier marriage. No surprise there, right?
How can you savor times with your spouse in the moment, in reminiscing, and most importantly, in anticipation? Here's a few ideas.
Savoring your marriage in the moment:
Get a babysitter to watch your children and go on a date with your spouse.
Put the cell phone away and focus solely on your spouse. (For sure, Do NOT Text and Date.) Enjoy conversation with your spouse.  Flirt. Stare into one another's eyes. Enjoy the romance.
While enjoying a date with your spouse, leave the planning, disagreements, and heated discussions for another time. Focus on those things you enjoy together and the moment of being in one another's presence. (This will help you Make Date Night Spectacular!)
Hold hands. Sit arm in arm. Cuddle. Physical contact can help you remain focused in the present and savor the moment.
Take some pictures during your event. These can be used when you "savor your marriage by reminiscing."
Savoring your marriage by reminiscing:
Open the photo album or pull up the pics you took while on previous outings (remember the pictures you took while savoring the moment?) or during previous times in your life as a couple. Look at the pictures of the past events and activities you shared with your spouse and enjoy retelling the stories of those events.
Even without pictures, talk about your favorite vacations, your favorite dates, your times of joy and pleasure. Retell the stories of obstacles you have overcome and joys you have experienced together.
Enjoy reminiscing about the beautiful story of your life together with all the ups and downs that have brought you closer together. (And enjoy sharing that story with your family…it's The Story That Will Change Your Family Life.)
Savoring in anticipation (the savoring with the greatest impact on marital satisfaction):
Plan an outing for you and your spouse several days in advance. Let it be a surprise. Do not tell them what it is but give daily hints as the event approaches.
Plan an outing with your spouse. Talk about your anticipation for the outing.
Plan a vacation with your spouse. As a couple, learn some about the history and culture of the place you plan to visit on your vacation. Look up some restaurants and points of interest to visit. Talk about various activities you would like to engage in as a couple during the vacation. 
Talk about where you'd like to be in 5 or 10 years. What do you want to be like as a couple? Where would you like to visit as a couple? What would you like to do together…as a couple?
All in all, Put the Zing of Anticipation in Your Marriage.
Practice these 3 ways to savor your relationship and grow a stronger marriage. You'll love the results!