I really like this quote from Natalie Dattilo, an instructor of psychology in Harvard Medical School's Psychiatric Department: "Health car is expensive. If we can find a tool that is as simple as laughter, that is free for the most part, with no side effects and has no contraindications, that would be really great."  In fact, we have found the tool of laughter…if we would only utilize it. After the quote, the author described a study from 2011 that showed laughter had a pain-relieving effect. Why not use laughter to help decrease pain? Laughter has also been shown to decrease help regulate anxiety and stress.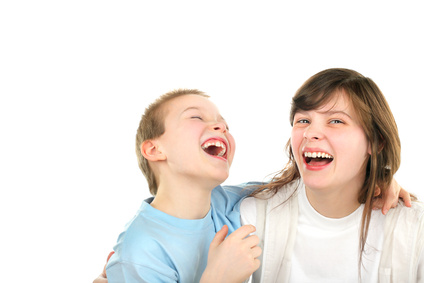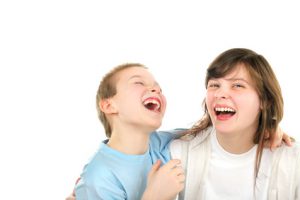 Interesting to me, the author referenced a study published in 2004 which revealed that a psychotherapist and patient would laugh about 2 times every five minutes during a 50-minute therapy session. When they laughed, they both showed increases in the part of the nervous system controlling blood pressure and heart rate. Moreover, when they laughed together, it was perceived as validation and brought greater intimacy. 
I know our family relationships are different than a therapy-patient relationship. However, if laughter can bring therapist and patient together in shared validation and intimacy, just think what it might do for our families. By creating times of shared laughter in our families, we can help reduce anxiety, validate one another, and draw closer in relationship to one another. Accomplishing all that in an anxiety-ridden, invalidating, isolating world is "nothing to laugh at." So, starting today, create the opportunity to laugh as a family.
Tell some corny "Dad jokes." Of course, everyone will moan…but not before they smile, giggle, or laugh.
Watch a comedy together. You can watch a sitcom or a movie comedy. Enjoy the laughter.
Look for the humorous in the world around you. We tend to see the sad, the traumatic, the dangerous. The news and fundraising campaigns often focus on those aspects of life. But the funny and the humorous are all around us. Watch funny cat videos (my wife loves those) or simply look for the funny images in the world around you. You'll find them…and you'll enjoy the laughter.
Laugh at yourself. Don't take yourself too seriously. Enjoy a laugh or two over the silly things you do. I have to admit, sometimes I do the silliest things–like searching for my glasses when they're in my pocket or looking for my phone while talking to a friend on my phone. Enjoy a laugh about the silly things you do.
Next time you're feeling disconnected from your family, find a way to laugh with them. Laughter is a simple tool that is free and has no side effects or contraindications. Enjoy laughter with your family and you might just find yourself feeling closer than you ever did before.