Romance & Breast Cancer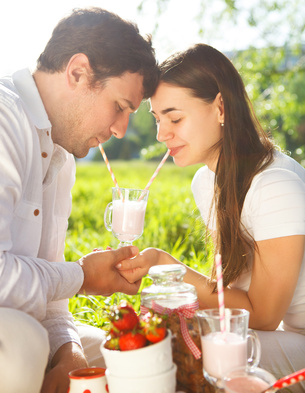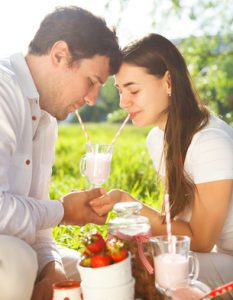 What does romance have to do with breast cancer? According to research published in Psychoneuroendocrinology, there is a definite relationship. Researchers from Ohio State University found a "clear trend" between romance and breast cancer after reviewing the data obtained through questionnaires and three separate blood samples taken from 139 women diagnosed with breast cancer. A "clear trend"? Yes. The more satisfied a woman felt about her romantic relationship, the lower her perceived stress and the lower her inflammation. Elevated levels of inflammation are associated with cancer recurrence and other illness such as arthritis, Alzheimer's disease, heart disease, and Type 2 diabetes. In fact, women's inflammation markers were even lower at individual visits in which they reported satisfaction with their partner than during individual visits in which the same women reported less satisfaction. In other words, this research suggests a "clear trend" that a strong, healthy marriage reduces the chances of breast cancer recurrence and promotes positive overall health by reducing a woman's perceived stress and inflammation markers in the blood.
Of course, this "clear trend" is not a cure-all. But it does provide us with important information. A healthy marriage can promote your spouse's physical health. With that in mind, here are a dozen ways to build a healthy marriage, to keep your marriage strong and intimate.
Share time together. Intimacy and health within any relationship, especially marital relationships, are built upon time spent together.
Dream together. What do you want to do in five years? Ten years? What dreams do you want to fulfill with one another? For one another?
Share physical affection that includes non-sexual touch and sexual intimacy. (Is Your Marriage Like Chocolate Without Icing?)
Express gratitude. Even if you think your spouse simply did what they are supposed to do, thank them anyway. Gratitude builds relationship.
Expand your "love maps" of one another.  Learn about one another's world of ideas, friends, and activities.
Express adoration and admiration for one another. Keep the adorable parts of your spouse in mind and make it a habit to compliment them often. (Here is an adoring Math Equation to Strengthen Your Marriage.)
Talk about problems as they arise and working to resolving them with your spouse's best interest in mind. After all, to "shut up and put up" will destroy your marriage.
Apologize when necessary. Notice it says "when" not "if." You will make mistakes. We all do. Be willing to eat a little humble pie and apologize for your mistakes and wrongdoings.
Forgive graciously. As Desmond Tutu's book is famously titled, there is "no future without forgiveness."
Honor your spouse by serving them. There is no greater way to show the full extent of your love than through the simple, daily, menial tasks of life.
Start a hobby you can both enjoy. This can help you enjoy time together.
Encourage your spouse's dreams. Ask your spouse about their dream. Then do what you can to support that dream. Encourage them. Accompany them. Finance them. Dream with them.
Engaging in these activities will help you build a stronger, healthier marriage with your spouse. And that will promote your spouse's health. That's the power of love!