4 Ingredients for a Happy Family
I discovered a new recipe for Happy Family. No, I'm not talking about the Chinese dish, although I would enjoy Happy Family for dinner tonight (click here for a recipe for the "edible happy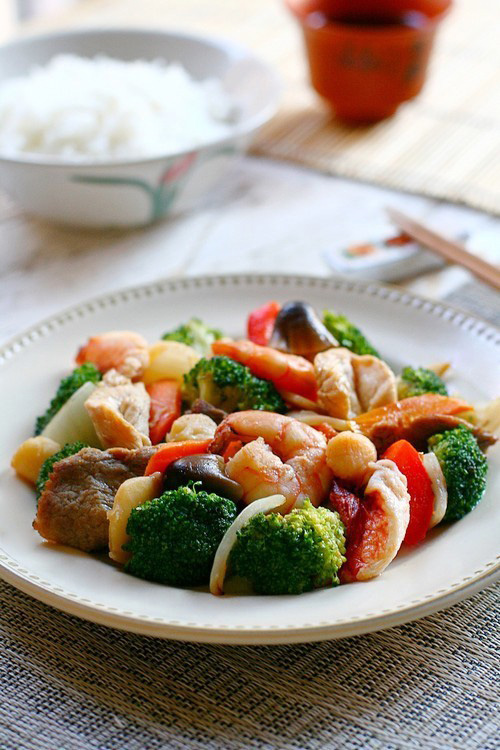 family")…well, both the dish and the family come to think of it. Anyway, I am talking about a simple way you can turn your family into a happy family. This recipe works especially well in the heat of conflict. 
First, realize that conflict is often too hot to handle. Cool it down with a neutralizer. State what has upset you in as neutral a tone as possible. To help you stay neutral, avoid statements beginning with "you." Making comments like "You drive me crazy," "You always mess things up," "You're so stupid," or "You make me so mad…" only adds heat to the recipe, threatens to scorch the relationship and burn your family. Instead, turn down the heat by making more neutral comments. Start these comments with an "I" instead of a "you" and simply state how you feel in this specific situation in as neutral a tone as possible.  "I'm really upset right now," "I am worried that this will end badly," "I am hurt by that statement," and similar statements will go a long way in keeping the heat of conflict to a moderate level. And, in all reality, these comments speak the truth more accurately. They truthfully express how you feel rather than making assumptive statements that exaggerate the other person's faults.
Second, replace your complaint or criticism with a positive action the other person can take to help. Rather than throwing bitter blame, sour complaints, or overly-spicy name-calling into the recipe mix, state what positive thing your family can do to help. State what you want rather than what you don't want. Stating your "positive need" (what you do want) infuses a solution into the recipe mix and adds the sweet opportunity for an expression of love. And, as John Gottman says, "Stating your positive need is a recipe for success."
Third, add listening to the recipe as a stabilizer. Without stabilizing the family in the midst of conflict, those involved will "weep" and separate. Listening acts as a stabilizer, binding us to one another and helping all the ingredients, including the people, stick together. Listen carefully and non-defensively with the goal of understanding the other person's emotions and pain.
Finally, add the calming sweetener of empathy. As you listen non-defensively, summarize your partner's point of view. Validate the other person by repeating the meaning of what they have said and labeling the emotion behind what they have said. Summarize their perspective with a simple sentence or two.
Combine these 4 ingredients over the heat of conflict, mix gently, and you will enjoy a Happy Family. You know, I got a little hungry writing this. I think I'll go practice these 4 ingredients with my wife. Then, we can work together on the recipe for the Happy Family dish. Tonight, we can sit down as a Happy Family for a serving of Happy Family. Sounds like a happy time.