Recently, one of my friends and I were talking about how food helps to build family. He excitedly shared the ethnic foods that his family eats to celebrate various traditions. He even shares them with me…and I enjoy that! We also talked about our favorite summer foods. Summer just would not be summer without our favorite summer foods. Many of my favorite memories of summer include food. Of course, many of my favorite activities all year round include food. At any rate, I thought I'd share some of my favorite summer foods with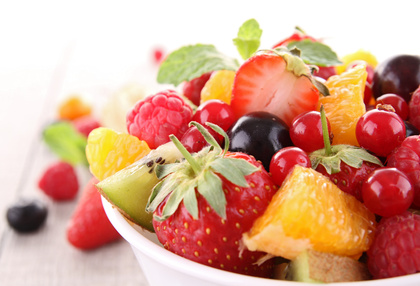 you. I do love to eat, so I had to trim the fat from my list in an effort to keep this post lean…and to leave us all hungry for more.
Everyone enjoys feasting on the juicy fruits of summer–watermelon, cantaloupe, peaches, berries. So many wonderful memories come to mind when I think of enjoying watermelon or peaches or strawberries at family reunions and various picnics. I really enjoyed the watermelon. Not only did watermelon taste great, but the seeds provided opportunities for fun competitions—who could shoot (aka, spit) them the farthest, who could shoot the most in the shortest amount of time, who could hit a target. Although watermelon provided good taste and great fun, I think my all-time favorite summer dessert as a kid was fresh strawberries, sliced with just a little sugar…delicious.
I love corn on the cob, too—cook it on the stove or cook it on the grill. I recall losing my two front teeth one year and having to cut the corn off the cob to eat it. Although it still tasted good, it just wasn't the same. I also remember going to church camp and watching the staff roast corn on the cob for the campers. If you haven't tried roasted corn on the cob, you'll have to try it. It tastes wonderful. Of course, when you roast some corn on the grill, you might as well add some hot dogs and hamburgers. My family enjoys preparing their own hamburgers. We supply diced onions, red peppers, garlic, and mushrooms as well as shredded cheese and various spices. Each family member goes to town putting together their own hamburger patty. Masterpieces include whichever ingredients we choose.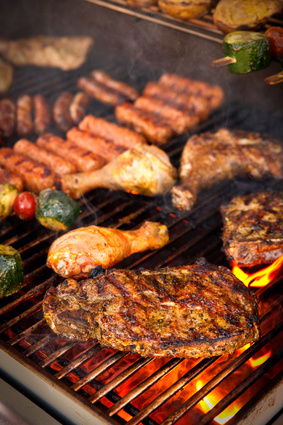 While waiting for your hamburger and roasted vegetables to finish cooking, you could enjoy a salad. Be creative in your salad. Depending on your tastes, you can add cranberries, orange slices, apple pieces, pecans, or any other tasty morsels to your lettuce. However you mix it, you end up with a refreshing salad on a warm summer day.  
Finish out this feast with some sweet delights. Ice cream is a solid stand by. However, if you want to add excitement to your ice cream, throw in some fresh strawberries, raspberries, or blueberries. Even more exciting is strawberry shortcake. Every year, our family enjoys a day of rides at our local amusement park. On the way out, we always buy the summer sweet found in amusement parks—cotton candy.  Really, you need to get two orders so you have enough to go around…and maybe a third one for dessert after tomorrow's picnic.
That's it…the short list of my favorite summer foods. Each of these foods holds a special memory as well, memories of time spent with family over the summer months. I hope you have your special summer foods and traditions. If not, why not start some this summer. If you do have a favorite summer food and tradition, take a moment and share it in the comment section below. We'd love to hear from you.