Christmas, Materialism, and Family
With Christmas just around the corner, a
recent study suggests
that materialisti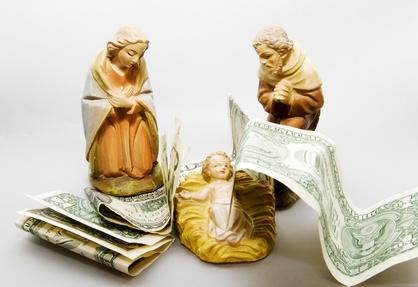 c attitudes reduce happiness in marriage. With a plethora of advertisers spouting the "one with the most toys wins," this study suggests the opposite. The researchers looked at over 1,700 couples and discovered that a focus on getting or spending money was associated with lower levels of responsiveness between spouses, less emotional maturity, more ineffective communication, higher levels of conflict, lower relationship satisfaction, and less marital stability. Perhaps, this focus on "material things" resulted in over-working in an effort to gain the "needed money;" and overworking led to less time with family and less opportunity to develop family relationships. Perhaps the focus on material things stemmed from a self-focus instead of a relational focus. Either way, a focus on monetary gain did not promote happiness and it interfered with family intimacy. This study brings to mind the wisdom of one ancient author who wrote, "The love of money is the root of all evil."
Today we stand at the brink of Christmas—a time when commercials and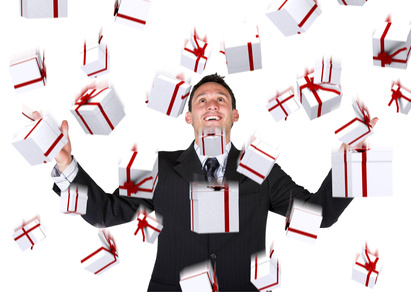 advertisements cater to our materialistic desires. Get her a diamond. Buy him a car. Satisfy your child's need with an Ipad (by the way, how young is too young for an Ipad?). Buy this or buy that to find happiness. The
American Research Group
suggests that the average amount of money spent on Christmas gifts by any one person will range between $646-808 this year, depending on how the buyer purchases their gifts. We say "it's the thought that counts" but obsessively assess each gift, hoping the receiver will be completely satisfied. In spite of all this effort and money, those receiving a gift from us are often disappointed; and, "according to the Direct Marketing Association, 65% of the population will be standing in line" to
return their gift
after the holidays.
All this focus on "what I'll get for Christmas" can contribute to family disaster at Christmas time. What can a family do to avoid the materialistic, commercial side of Christmas? Here are a few ideas.
Focus on the more meaningful aspects of Christmas–family togetherness, generosity in giving, love, and caring.  
Watch Christmas movies and TV specials that focus on the meaning of Christmas. Sit down as a family and watch a few movies like How the Grinch Stole Christmas, Rudolph the Red-Nosed Reindeer, Santa Clause, and of course, The Charlie Brown Christmas Attend a Christmas Eve service together.

Encourage family members to make a "Christmas Giveaway List" along with their "Christmas Wish List." The "Christmas Giveaway List" can focus on all the gifts you plan to give away.

While you're at it, go through all of your old toys and clothes. Pick out the ones you no longer use and take them to the Salvation Army or give them to a less fortunate family.

Each night, take five minutes with your family to write down 3-5 things for which you give thanks. Write something different each night for the month of December and January.

Send "thank-you notes" after Christmas. In fact, send thank-you notes throughout the year. You can thank people for a gift they gave you, for their service in some area, for a trait you simply admire in them, or any number of other things. Acknowledging our thanks is a wonderful habit to establish.
 Above all, remember the gift of Emmanuel this Christmas. Contemplate what the gift of God's Son really means in your individual life and your family life.
Don't let a materialistic attitude grow in your family through the Christmas season. Instead, cultivate an attitude of generosity and family intimacy. Focus on the true meaning of Christmas as told by Linus in Charlie Brown's Christmas.