I loved working with John (name changed for privacy reasons), a seven-year-old boy who had a seizure disorder and was very active. I learned so much spending time with him and his family. Part of my job was to take John to the neurologist for his check-ups. One day, John and I sat in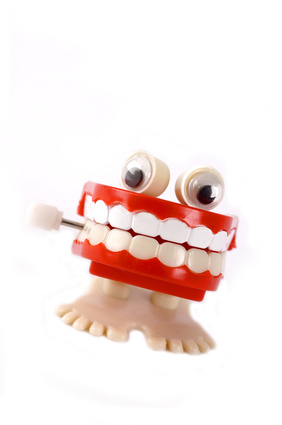 the patient room waiting for the neurologist to see us. John was bored and started to explore…well, explore may be an understatement. He began to spin around in the chair, climb onto the sink and then the shelves. He climbed onto the bed to see how high he could jump. He climbed into the window sill. He started to touch various medical instruments in the room. I tried to stop him but I was young, inexperienced…and obviously had no idea. I just followed him around asking him to stop, trying to redirect him. He simply moved to the next object and touched, climbed, jumped, threw, pushed buttons, flipped switches, and anything else he could. Then the doctor walked in. He looked around the room and realized I had nothing to offer. He smiled at me and quietly walked to the exam table and pulled out a little wind-up toy. He wound it up and set it down. It banged tiny cymbals and then did a backward flip before starting the process all over again. John immediately stopped running around the room and watched the toy. When it stopped, the doctor showed him how to wind it up. John wound it up and watched it go. The doctor left to continue his work, returning several minutes later to see John. I learned an important lesson that day. If you want to change a child's behavior, change their environment. Here are some simple ways Thomas Gordon identified to change a child's environment in order to improve behavior:

·         Enrich the environment. Provide lots of stimulating and interesting things for your children to do. Children do best when they have interesting, challenging activities to hold their attention. Pick an area in which your children can play safely and fill it with age appropriate activities that will attract their attention.

·         Impoverish the environment.  When we impoverish an environment, we reduce the stimulating, challenging activities available. I know it seems contradictory, but we can easily enrich some environments for our children and impoverish others. For instance, we may enrich the family room of your house but impoverish the bedroom. Impoverish the bedroom environment so your children have fewer stimuli to attract their attention when it is time to go to sleep. This may mean no TV, no video games, and no phones in the bedroom.

·         Simplify the environment. Modify the environment so your children can do more things independently. For instance, put clothes where your children can get them and put them away independently. Keep a stool by the sink so they can wash their hands without your help. Put unbreakable cups within easy reach. Make the environment conducive for independent, age-appropriate activities.

·         Prepare your children for changes in the environment. Children like consistency and predictability. When things happen unexpectedly, or when you have to do something that the children cannot predict, they become upset and act up in their stress. And, as you know, changes happen. Families encounter new or unexpected experiences. When this occurs, do your best to let your children know ahead of time. Discuss with them what will happen. Let them know what is expected from them. Encourage them and acknowledge their cooperation.

·         Plan the environment for increasing responsibility and independence. As your children mature, they can become more independent. Plan ahead for this growing maturity. For instance, create a space for teen privacy. Purchase an alarm clock so children can start getting themselves up in the morning for school. Knock before entering your children's room. Create a message center for sharing information when the schedules get busy. Discuss appropriate curfews and make sure family members have house keys.
You can change your children's behavior by changing their environment in any of the ways mentioned above. Of course this won't fix everything, but an ounce of prevention is worth a pound of cure…why wait until the misbehavior occurs when you can change the environment ahead of time and maybe even prevent it?