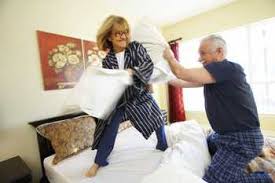 My spouse and I live alone in our house now…just the two of us. Our children have grown into beautiful young ladies, each of them living in their own homes. We can even have a pillow fight without anyone interfering or telling us to "settle down." In addition, when my wife asks," Did we run the dishwasher?" or I inquire if "we bought eggs?" we know what we are talking about.  Still, questions like that give me pause.
Why? For starters, it's obvious that the person asking the question knows they didn't do the task. The objective truth of the question asks if their spouse did the task. But rather than using the pronoun "you," we both use the "Royal We."
But that's not really why the "Royal We" give me pause. The "Royal We" gives me pause because it reminds me how grateful I am to be part of our marital team. The "Royal We" reminds me that I am not alone. I live with a spouse who loves me and works with me to create a joyous marriage and life. Sure, we have our individual interests and strengths. We enjoy individual hobbies. We have our personal sensitivities and struggles. But, encompassing all our personal nuances and idiosyncrasies is the protective, loving "Royal We."
As charter members of our "Royal We," we have each other's happiness in mind. We weep when the other weeps and rejoice when the other rejoices. We support one another in joyous times and in times of sorrow. We protect one another emotionally, mentally, and physically. We nurture one another's dreams. Yes, we plan a future together.
Research suggests that a healthy "Royal We" is good for a marriage, too. Specifically, couples with a strong sense of "we" are more positive toward one another and feel less stressed. In other words, the "Royal We" supports happy, healthy marriages that nurture healthy individuals. So, how can you build the "Royal We" in your marriage?
First, be responsive to your spouse. John Gottman refers to this as "turning toward" one another. People within relationships make multiple bids for connection with one another. These bids may be as simple as eye contact or a comment about the weather. Or, they may be as direct as saying, "We need to talk." In whatever way bids are made, couples who respond 86% of the time become "master couples" who experience greater joy and intimacy. Those who respond only 33% of the time are "disasters" and at risk of divorce. So, the first step in becoming a "Royal We" is to respond to your spouse.
Second, create rituals of connection. Build a ritual for reconnecting with your spouse after having spent time apart. The ritual can include a simple verbal greeting, a hug, and a kiss. It might also include an exchange highlighting anything important that happened while apart. So, take the time to reconnect after being apart. It's simple…but it will have a powerful impact on your relationship and the strength of your "Royal We."
Third, dream together. Look to the future and what adventures you would like to experience with your spouse. What do you want to do as a couple in five years? Ten years? What vacations would you like to enjoy together? What dreams can you nurture in your spouse and enjoy with them? How can you work toward these dreams and activities? Not only will you enjoy the dreams and activities in your future, but you will also enjoy the time you spend working toward those dreams and activities.
The "Royal We" fills me with gratitude…which leads me to one final aspect of building a strong sense of team in your marriage. Express gratitude to your spouse and for your spouse. Thank your spouse often for being a part of your team, the "better half" of your "Royal We."