You have to look out for "number 1," "numero uno," the "big cheese." If you don't look out for number one, who will? So, I encourage you to keep your eye on the goal, the "cream of the crop," the…. Oh, wait. Maybe I need to clarify who "number one" is? When I say look out for "number one," "numero uno," "the big cheese," I am referring to your spouse and your children. When it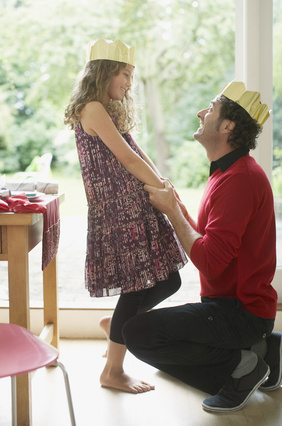 comes to building a healthy, lasting family, the other guy in your family is "number one." And really, if you don't look out for the other guy in your family, who will? Families flourish when each person in the family considers the other guy "number one" and looks out for the other guy's interests. That is the crux of honoring one another. An ancient family expert said it this way: "Do nothing from selfishness or empty conceit, but with humility of mind regard one another as more important than yourselves; do not merely look out for your own personal interests, but also for the interests of others" (Paul-Philippians 2:3-4) So, well, yeah…I hope I didn't cause any confusion. Looking out for number one is looking out for other family members and here are 5 ways you can do just that:
      ·   Learn about their interests. Each family member has a unique personality and will have unique interests as a result. The "other guy's" interests may not fill you with excitement; but if you take the time to learn a little bit about their interests, you will grow closer with "number one." You will find yourself able to engage your family member in conversation about their interest and, even better, you will be thrilled to watch their face glow with excitement as they discuss this interest with you.

·   Listen intently. We can look out for "number one" by listening carefully with the goal of understanding. I don't mean just listening with our ears either. I mean listening with our eyes, ears, mind, and heart. Make sure you not only hear the words accurately but that you can really see things their way as well. Listen so well that you can completely understand why they "think the way they think" and "feel the way they feel." Listen so carefully that you can explain their point of view and behave in a way that informs them that you completely understand and respect how they feel. 

·   Find ways to express your admiration for each family member…after all, they are "number one." Let them know you take great delight in them. You admire them. Tell them so with your words; and, let them see it in your eyes. Let them feel it in your hugs. Express your love with an encouraging back slap or a high-five. Let them see your admiration and delight for them in your actions.

·   Seek out ways to help them fulfill their dreams. Everyone has a dream. Find out about each family member's dream. Share in their excitement. Learn about the topic of their dream so you can talk with them about it. Keep your eye open for opportunities for them to reach for their dream and share those opportunities with them. Help them reach for their dream.

·   Learn how you can make them happy. Maybe your kind words make them happy; maybe your acts of service make them happy. Or, you may find that loving touch, time spent together, or little gifts makes them happy. Carefully observe them to learn what brings them the greatest happiness and, most importantly, do it.
 It is true: you have to watch out for "Number One." And, you have to make sure that the "number one" you look out for really is the right "one." When it comes to family, "Number One" is not me…it is the rest of the family. Now go to it…watch out for "number 1," "numero uno," "the big cheese."