Compromise: My Way or The Highway?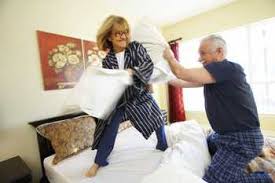 If you're married, you have probably had this experience. You know…the one that occurs when you want one thing and your spouse wants another. You disagree on the best course of action, but you need to reach an agreement. And reaching an agreement will require compromise. And so, the discussion (or should I say debate?) begins. You and your spouse state your cases. You persuade. You list off the benefits of your side.
Underlying the whole discussion, however, is a small, nagging fear that if I stand firm, you might consider me selfish and become resentful. But, if I give in to meet your needs or comply with your ideas, you might take advantage of my kindness… and I will grow to resent. Plus, the whole issue of fairness flows like a riptide under these fears, threatening to pull us into frustration and anger. All in all, our effort at compromising becomes a lesson in political antagonism. But (and this is a big but) it does not have to be this way.
The whole tone of compromise can change when we shift our paradigm and stop thinking in terms of my needs and desires versus your needs and desires. The tone of compromise changes when we shift to recognize that the true struggle begins within each me and within you. It is not the struggle of "me versus thee" but the struggle within myself to honor two needs I harbor in my heart that are of equal importance:
One, to satisfy my personal need or desire and
Two, to make my spouse happy. After all, we all want our spouses to experience happiness in their relationship to us. Our love for our spouse pushes us to grow, to think beyond our own desires and consider another person's desires.
By recognizing this internal struggle, we become better prepared to listen, to understand, and to discover a mutually satisfying solution. In other words, compromise is an opportunity to stand up for ourselves and our spouse rather than give in or persuade.
Gottman developed an exercise to aid couples in this process–the two ovals exercise. First, draw an oval on a piece of paper. Write what you must have in order to be true to your identity within this oval. What you write will vary depending on the topic at hand. However, one value you can always write in this first oval is the desire to bring your spouse happiness.
Next, draw a second oval around the first one. In this outer oval, write things related to the topic of discussion that you are flexible about. With these two ovals complete, you can approach the conversation with a deeper sharing of priorities, a clearer understanding of issues related to each one's identity and security, and an explicit expression and recognition of each one's desire to make the other happy. Compromise becomes an opportunity to know one another better and to seek a way to make one another happy. Instead of "my way or the highway" undergirding the talk of compromise, "how can we make one another happy while we meet our individual needs" becomes the foundation of the discussion. Now that is a compromise we can invest in!