It's All Fun & Games Until… It's Something More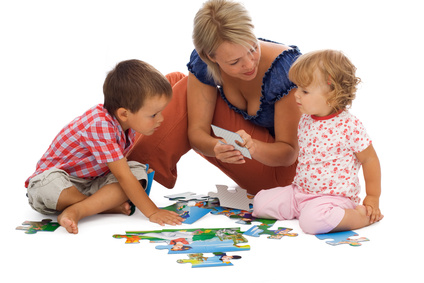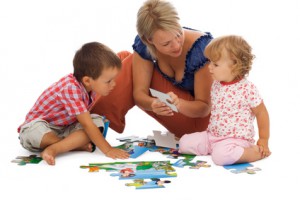 Teaching our children to be helpful and generous is all fun and games…at least in part. That is what I learned from a study published in November 2014. Actually, it was a series of four studies. The first study involved 1- and 2-year-olds assigned to one of two groups. In the first group, a researcher engaged a child in reciprocal play such as rolling a ball back and forth, pushing buttons on a musical toy together, or handing large rings to one another. In the second group, the researcher engaged in parallel paly with the child. Specifically, the researcher played with one set of toys while the child played with another set of toys.  After six minutes, the researcher acted as though they needed help reaching an object. Those who had engaged in reciprocal play helped the researcher get the object significantly more often than those who had engaged in parallel play.
The second study involved assigning children to the same two groups as the first study. It also added a third group in which the researcher merely sat nearby and talked to the child while he played. This time, the researcher left the room and a second researcher, who did not know which child was in which group, came into the room and exhibited a need for help. Once again, those who had engaged in reciprocal play helped significantly more often, even though the person they helped was unknown to them, a stranger.
The third study involved 3- and 4-year-olds in the same two groups as the first study: a reciprocal play group and a parallel play group. As in the second study, the researcher left the room and an assistant carried out the rest of the study. This time, rather than asking for help, the researcher offered the child 6 opportunities to give stickers to him- or herself or to the absent experimenter through the assistant. Guess what. Those engaged in reciprocal play were significantly more generous.
Finally, in a fourth study involving 4-year-olds the researcher asked two assistants to play with the child while he left the room to complete a task. One assistant engaged the child in reciprocal play for one minute. The other engaged in parallel play with the child for a minute. Then the experimenter returned. He showed the children a picture of the two assistants and asked them to point to the one they thought would give them a gift, help them open a door, or share a toy with them. The children consistently pointed to the one who engaged in reciprocal play with them.
These studies suggest that engaging our children in interactive play—play that involves sharing, taking turns, working together—nurtures their willingness to show kindness to others, even those they do not know but trust. It also increased their tendency to act generously toward others. Generous and kind children…triggered by our own interactive play with them. Simply playing a different game next to them did not promote kindness or generosity. Neither did sitting next to them and talking while they played. Getting involved in their play, interacting with them—tossing a ball back and forth, sharing play objects (dolls), or working on a project together (Legos)—promoted kindness and generosity. In other words, teaching our children to be generous and kind is all fun and games. So, be generous enough to kindly give your children the time to interact with them in play…and they will grow in kindness and generosity as well.