Six Reasons to Hug Your Family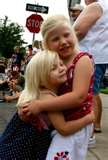 A hug is defined as the "holding or squeezing of someone tightly in one's arms." But, in reality, a hug is much more than simply holding or squeezing another person. A hug is powerful. A hug can change a life. In fact, here are 6 reasons to hug your spouse, children, and parents on a regular basis.
Research out of Carnegie Mellon University suggests that receiving a hug on the day of a conflict contributed to feeling less negative emotion the day of the conflict and the day after the conflict. The hug also prevented the conflict from reducing positive emotion on the day of the conflict. In other words, a hug helps people feel better even after a conflict.
In another study involving 404 participants, hugs were found to buffer the stress caused by daily stressors and resulted in less severe symptoms when infected with a virus for the common cold. Want your loved ones to be less stressed and have fewer symptoms of illness? Give them a hug.
Hugs may boost heart health also. A study published in 2003 found that people who held hands with their loved one for ten minutes and then hugged them for 20 seconds (compared to those who simply rested for 10 minutes and 20 seconds) had lower blood pressure & less increase in heart rate during a public speaking assignment. In other words, physical affection, including a hug, reduces our reactivity to stresses and promotes better heart health.
A good 20-second hug releases oxytocin…and oxytocin counteracts stress, helps us relax, increases our level of trust, and increases our empathy and feelings of intimacy. You could say hugs release oxytocin and make us feel good.
Hugs also communicate affection and love to the other person. A hug communicates "You belong." Who doesn't like to know they belong? Everyone enjoys knowing they are loved. Communicate your love…give a hug.
Last, but not least, hugs feel good. You can feel the comfort and the relaxing of the muscles even as you feel the other person's arms engulf you in a hug.
Hugs benefit our physical health, our emotional health, and our mental health. They communicate love and help people know they belong. Give your loved ones a hug today. Better yet, give them several hugs today.