You Are Truly Rich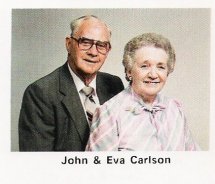 A woman from our church family passed away at the end of January. She was 98 years old. She was a retired school teacher and students from fifty years ago still called her Mrs. Carlson. Friends and those who met her during retirement, called her Eva. Those who had the privilege of growing up in the church she attended call her Aunt Lou. Everyone loved her. She was one of the most gracious people I have ever met. People who have known her their whole lives honestly look back and say that she never said a harsh word about anybody. She only had words of kindness, encouragement, and grace.
She and her husband taught me a lot about family. They had no biological children of their own, but children in their neighborhood gathered on their porch to share time with them, children at church called her Aunt Lou, and women my age look to her as a mentor and example of a loving, gracious woman. I recall going to Eva's home for Sunday dinner. She always prepared a great meal. Afterwards, she helped her husband clear the table and he washed the dishes. Her husband, a tough WWII vet, stood over the sink washing dishes and sharing loving words of gratitude with his wife. He looked at me and said, "You remember this, your wife is kind enough to cook dinner, you wash the dishes." These are simple words of wisdom to recognize, in a very practical way, how family members contribute to family life. Eva smiled and gave him a kiss. Sharing grace and gratitude made their marriage strong.
When my wife and I started a family of our own, Eva would always ask about our children. She asked about our children's interests and education. No matter what, the conversation always ended with her saying the same words, "You are rich…truly rich!" She was right, family gave me "true riches." Anyone who has family is "truly rich." She knew the value of family because she had built her own family on shared grace and honor, not just with her husband and her brothers' families, but with her "family" at church and in the community. We can all learn the lesson that family makes us rich, truly rich. And, we build those riches on grace shown to one another.
Perhaps you have an Eva in your life. If so, you have been truly blessed…you are truly rich. If you would, share your stories about the "Eva's" in your life. As you do, you will be sharing your riches with us all.