Our Answer to One Question Determines Our Future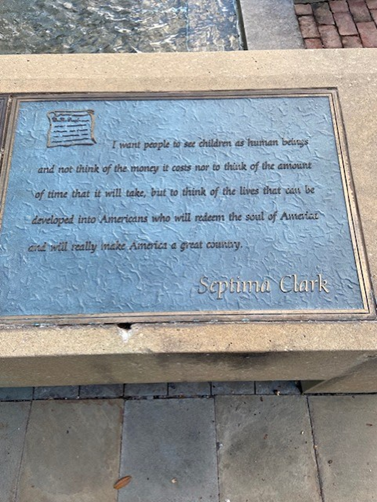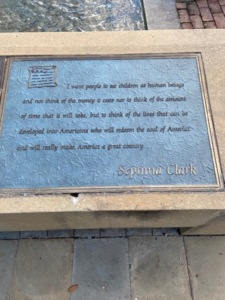 My wife and I were visiting Charleston, North Carolina when we saw this plaque. It reads: "I want people to see children as human beings and not think of the money it costs nor to think of the amount of time it will take, but to think of the lives that can be developed into Americans who will redeem the soul of America and will really make America a great country." –Septima Clark
Septima Clark did not just make the statement, she walked the talk. She became known as the "Grandmother" of the Civil Rights Movement. She started "Citizenship schools" that taught adult literacy and "citizenship rights." These schools instilled self-pride, cultural-pride, literacy, and a sense of one's citizenship rights.
Why do I mention this quote? Because Ms. Clark states truth. Our children thrive when we see them as human beings rather than simply children. We need not think of our children as financial burdens or "little time-suckers." They are a blessing, a blessing upon which our present and our future rest. They are the ones who will carry our values and priorities into the future. They will redeem our communities and our country.
I remember learning a similar idea in my early college years. I don't remember the exact quote, but the "gist of the idea" stated that a culture can be redeemed or destroyed in a single generation. The way in which we treat our children, the manner in which we raise them, will have a great determining factor on the course of our future…similar to what Septima Clark implied. Consider:
If we treat our children with kindness, they will take kindness into the future. If we treat them harshly, they will take harshness into the future.
If we treat our children with respect, they will take respect into the future. If we treat them with disrespect, disrespect will grow more rampant.
If we hold our children accountable in an appropriate manner, they will take accountability into the future. If we become overly permissive, they will also become permissive.
If we hold our children to age-appropriate expectations for contributing to the family and home, they will continue to see the joy of contributing to a happy home and family. If we become overbearing, harsh, or hold inappropriate expectations of our children, they will carry the same forward…and who wants to live in a community filled with those who are overbearing, harsh, and carry unreasonable expectations.
You get the idea. How we treat our children will determine our future. Let's begin to think of our children as blessings—lives that can be nurtured to bless others, "lives that can be developed into Americans who will redeem the soul of America and will really make America a great country."  How will we treat our children? Consider carefully for it's a question with enormous implications. Our future depends on our answer.