…And A Hug to Grow On
Virginia Satir is quoted as saying,
"We need 4 hugs a day for survival. We need 8 hugs a day for maintenance. We need 12 hugs a day for growth." You may read that and think, "That's a lot of hugging. Who came up with those numbers, anyway?"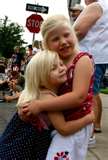 I don't know who figured out the numbers; but research does reveal that hugs improve our physical and emotional health. For instance, 404 volunteers from the Pittsburgh area participated in a study exploring social support, hugging, and physical illness. The volunteers were asked every evening for 14 days about their social relationships and whether they had received a hug that day. Then, the volunteers were given nasal drops containing a virus that produced symptoms like the common cold (yes, they volunteered for this!). Volunteers who had received more hugs showed a decreased risk for actually "catching the cold." In addition, of those who did "catch the cold," those who had been hugged more often had less severe symptoms. And, the more hugs a person received, the more social support they felt. Hugs increased a sense of social support and decreased the risk of physically "catching a cold."
Another study, involving 59 women in long-term relationships, shows that hugging can help reduce blood pressure too. In this study, the women were initially separated from their partner for 30 minutes. Then, their partner joined them for 10 minutes. During their 10 minutes together, they were encouraged to hold hands, watch a romantic video, and hug each other for at least 20 seconds. After 10-minutes together, the partner left, and the woman had to give an unprepared, spontaneous speech about an event that made her feel stressed. Blood pressure and oxytocin were measured throughout the procedure. The women also completed a questionnaire that included how frequently they hugged their partners. When all was said and done, more frequent hugging was related to higher oxytocin levels (Read 3…2…1…Oxytocin Release for more) and lower baseline blood pressure. In other words, more frequent hugging can help reduce high blood pressure and, as a result, the risk of heart disease.
Hugs can do even more too…but I don't have the time or space to share it now. I just got an urge to hug my wife. She's only had 4 today and I don't want to quit hugging her at mere survival. I'm shooting for enough hugging to really us grow. What about you? Will you give the one you love 12 hugs a day for growth?