My Spouse an Angel? 4 Ways to Make it True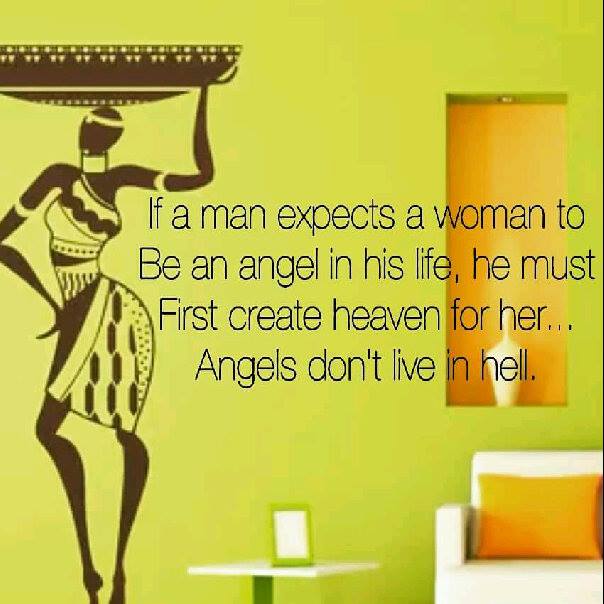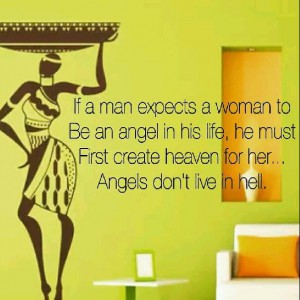 One of my Facebook friends posted this pic. I love the proverb written on it: "If a man expects a woman to be an angel in his life, he must first create heaven for her…angels don't live in hell." I don't know about you, but I want to live with an angel. So, I have to ask myself: how can I create heaven for my wife? How can I make my wife feel like an angel? Upon what is heaven built?
Heaven is built on honor—treating one another as special, precious, sacred. To create heaven for your wife, treat her with honor. Honor her above all others like a diamond above coal. Constantly think about the character and beauty you adore in your wife. Don't stop with merely thinking about your admiration of her character and beauty. Let your words and actions communicate love and admiration to your wife. Let your eyes sparkle with delight and adoration when she walks into the room. Speak of her with high praise when you describe her to others.
Heaven is built on unfailing trust. To create heaven for your wife, live a life of integrity and faithfulness that will build trust. Let your actions and your speech enhance her sense of security and acceptance. Keep your promises. Be available. Remember: the small, positive moments build trust; so, enjoy playful interactions, simple adventures, joyful moments and moments of sorrow, friendly conversations, and laughter. Work to "keep in tune" with your wife's emotions. Comfort her when she needs comforted. Rejoice with her when she rejoices. Rest with her when she needs rest. Join with her in life.
Heaven is built on servanthood. To create heaven for your wife, become a servant in your marriage. Serve your wife by listening to her and accepting her influence. Serve her by cooking dinner, washing clothes, or running the vacuum. Serve her by asking what she would like you to do to help her. Become the leader of servanthood in your home.
Heaven is built on sacrifice. Jesus willingly became the Sacrifice for our sin, a sacrifice that brought peace between man and God. Sacrifice opens the doors to heaven. To create heaven in your home, become a leader in sacrifice. Make small sacrifices like giving up the TV remote, giving away the last cookie, giving up your seat for your wife, giving up "the game" to take a walk…you get the idea. You may also make bigger sacrifices like giving up your music to listen to her music in the car, giving up time on your project to do what she desires, giving up the adventure movie to watch a "chick flick" followed by the emotional discussion of the movie…. You know what would prove a heavenly sacrifice in your home. And, you know that your sacrifice will produce greater security and open the doors for heaven in your home.
"Expect your wife to be an angel in your life"? Start creating heaven in your home. Build your home and marriage on honor, integrity and trust, servanthood, and sacrifice. Believe me, you will live with an angel…and you will get a taste of heaven on earth!