Arghh Matey, Send Your Family on a Treasure Hunt
Pirates always seem to have fun in the movies. They search for treasure and share fun times together. (I realize the realism of the movies may be somewhat lacking, but we want families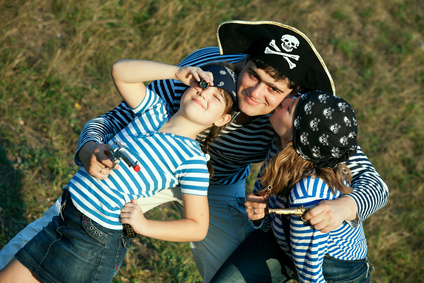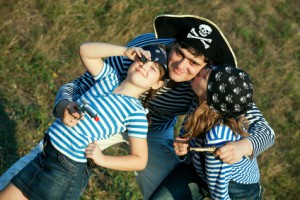 to have fun not suffer scurvy or malaria.) This family fun night will allow your family to "sail the high seas" of adventure in search of the greatest family treasure of all—fun times together. Although this activity involves some planning, it will prove very "rewarding" in the end (I mean you get a treasure…how much more rewarding can it get?)! Here is what you do, step by step.
Think of a simple activity your family enjoys. It can be anything from swimming, getting ice cream, having a campfire, or meeting friends at the park.
Find a picture of that activity. Laminate the picture and cut it into pieces to form a puzzle.
Think of different hiding places for each piece of the puzzle. You can hide the puzzle pieces in your own back yard or, to create a bigger adventure, hide them around your neighborhood or in a shopping center. (Do not hide the puzzle pieces yet. Read steps four and five before you actually hide the pieces of the puzzle.)
Write a clue, on a plain piece of paper, leading to the place you plan to hide the first piece of the puzzle. Then write a clue leading from the first piece of the puzzle to the second, from the second puzzle piece to the third, and so on. When you have a clue leading to each piece of the puzzle, move on to step five.
Hide the puzzle pieces. Keep the clue to the first puzzle piece wherever you plan to start the treasure hunt. Hide the other clues with the puzzle pieces. The second puzzle piece will be hidden with the clue to the third puzzle piece. The third puzzle piece will be hidden with the clue to the fourth puzzle piece and so on. Each puzzle piece will have a clue leading to the next puzzle piece hidden with the next clue.
Now you are ready for a family fun night. Read the first clue and let the treasure hunt begin. When all the pieces are found, put the puzzle together to discover the activity pictured. Then, enjoy the activity together. (I am partial to ice cream as an ending, btw.)
Enjoy your family fun night sailing the high seas of adventure and following the clues to your family treasure.