How to Get Fired As A Parent
Are you tired of being in the role of parent? Tired of all the decisions, responsibilities, and demands? Well, if you are tired of your role as parent, I have a plan to get you fired!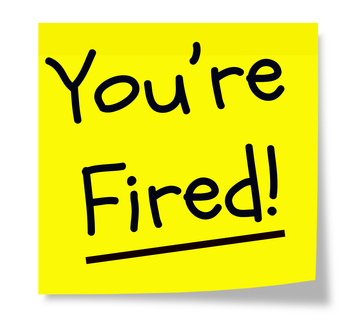 That's right—you can get fired from your role as a parent with one easy step. One step and you will have no influence with your child. One step and your child will just quit listening to you and start arguing, even rebelling. Here it easy, the one step to get you fired as a parent: 
Intrude into your child's life. Make every decision for them. Communicate, directly and indirectly, all your doubts about their ability to make any kind of good decision on their own. Force your wise choices on them. If they want an orange, demand that they really want an apple. Remind them that you know what they need better than they do. If they want to hold to some crazy idea like "rap is the best music," hassle them until they finally submit to your desired beliefs (after all, they are the right ones). Lecture them until you convince them of the wisdom and soundness of your ideas. As you put this step into action, you will get lots of practice. The more you hassle, lecture, intrude, and make every decision for your child, the more your child will rebel and do the opposite. Fortunately, their rebellion will simply allow you more opportunity to practice hassling, lecturing, and intruding. Before you know it your child will fire you. It will happen before you know…well, without you even knowing it happened. You will be so caught up in hassling, lecturing, and intruding that you won't even realize you've been fired. You'll be expending all sorts of energy on a child who has already fired you.
Of course, if you would rather not get fired as a parent…if you would rather have a positive influence in your child's life…try practicing acceptance and listening. Accept that your child may have different ideas than you. Sometimes those ideas differ because they are children…they are simply the ideas of a young and less mature person. Allow them the freedom to discuss those ideas with you. Listen to their ideas. Become curious about their ideas. Explore how they came to have that idea. Help them think about the idea and help them follow it to a logical conclusion. Accepting and listening will give them the opportunity and freedom to mature and grow.
Sometimes your child may express an opposing idea simply to establish their own identity. They want to prove they are their own person; and, they do so by disagreeing with you. Accept their ideas and listen. Become curious about their ideas. You can still voice your disagreement. But allow them the freedom to disagree with you by voicing your disagreement politely and calmly. They will listen more readily to your explanation for your own belief when you remain polite and calm. By accepting that they may believe differently than you, you allow them the freedom to explore both ideas—your idea and their idea—rather than simply defending their own.  As they explore both ideas, they will mature and grow.
Whatever the reason for their disagreement, you keep your role as parent by accepting and listening. Your credibility grows steadily stronger, your authority becomes more secure, and your influence grows more compelling as you accept and listen to your child. Sure, you will still have to discipline…and when you do discipline your child will get upset. However, when they know that you also accept them and listen to them, they will become more responsive to your role as a parent…and more open to your ideas. And that is worth all the effort!