3 Blessings From Family Camp-2013
This weekend we attended Family Camp at Camp Christian (click here for info on Camp Christian). Jim and Terri Jones (camp deans) organized another wonderful weekend of family time and learning. The speaker this year was Rob Grandi (for more about Rob, click here). He spoke to us about giving a blessing to our families and sang several songs of blessing as well. We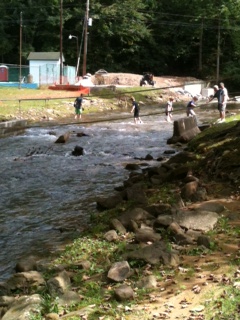 had a wonderful weekend—the weather was good, the time was relaxing, the fellowship was awesome, and the teaching was excellent. Each year, I like to share a few things I learned at family camp; so, here are 3 blessings I received from Family Camp this year.
     1.   A new bridge is being constructed at the entry way to camp—the foundation of the old bridge was falling apart. Right now, the new supports are in and the foundation is up. However, the platform of the bridge is yet to be added. This weekend we learned about giving a blessing to our family—about valuing each family member enough to serve them and honoring them enough to verbally share how much we value them. That sounds like the foundation of a family, the supports that make it possible for a family to travel over the white waters of life and make it safely to the other side. Giving a blessing builds a stable foundation of intimacy and love. It supports a bridge that leads to a mature sense of personal value and acceptance. Even the bridge to camp told the lesson of a blessing!

2.   Children are one of our greatest blessings! We enjoyed the company of many children at camp this weekend…children of all ages. We even had a visit from the "world's oldest camper" who is but a child at heart. We have now attended 11-years of family camp and had the joy of watching several children "grow up" into mature young adults. It is a beautiful blessing to see these young adults now passing on the tradition of blessing younger children with their attention, affection, and service. To those young adults who remain so active in the lives of all those attending family camp, thank you for your persistent faith; thank you for carrying forward the tradition of family camp; and thank you for sharing a tradition of loving family with the next generations. You have built a bridge over the gap of age to give us hope and confidence for the future.

3.   Our lives often come with pain and troubles. However, when those difficulties arise we have our church family. Each year, I come to better realize the importance of my church family. Our church family provides support through various difficulties and joins us in celebrating our successes and transitions. Our church family touches the lives of our children and helps them grow. As Family Camp so eloquently communicated this year, our church family blesses us in innumerable ways. So, if you find yourself in a "season of trial," turn to your church family. Let your family support you and guide you through this difficult time. Realize there are those in our church family who have crossed the bridge over this troubled time before you. They can help you avoid some pitfalls along the way. Let them support the bridge as you cross it today…and hold you secure as you step onto the "other side." Yes, our church family is a tremendous blessing.
We learned many more lessons at family camp, some we learned as a group and some we learned individually. If you attended family camp, you might want to share a lesson you learned in the comment section below. Thank Jim and Terri for putting together an incredible weekend. Thanks Rob Grandi for the inspiring music and lessons. Thanks to the band for a great worship time.  I hope more of you can join us next year!