A Parent Stands, Stoops, & Stays
I recently read a quote by Eugene Peterson from his book entitled A Long Obedience in the Same Direction. Mr. Peterson was referring to "God's posture of blessing" when he said, "God stands–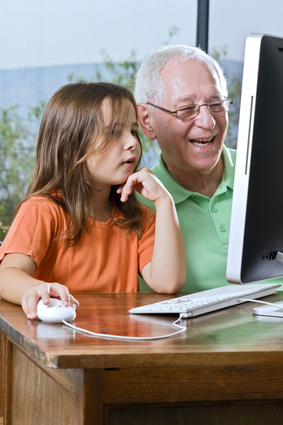 He is foundational and dependable. God stoops–He kneels to our level and meets us where we are. God stays–He sticks with us through hard times and good, sharing His life with us in grace and peace." This is a beautiful picture of God… and it is a beautiful picture of parents, family shepherds, who strive to emulate our Heavenly Father in our family. Think about it:
A parent stands, foundational and dependable in the family. He lays a clear foundation of trust. His children know he will keep his word and do as he says. He establishes a foundational lifestyle of honor and respect, in how he treats others and in the response he elicits from others. A parent also stands firm on the foundation of love, even in the midst of disagreement, discipline, or conflict. This foundation of love proclaims how much he cherishes and values his family.
A parent stoops. He kneels to his children's level and meets them where they are. This is as simple as getting on eye level with your children when talking to them…or walking a little slower so their little legs can keep up. Stooping also means listening carefully to understand their needs, emotions, and desires from their perspective, from the mind of a child.  Parents who stoop realize that their children have not seen what we have seen. They have not experienced what we have experienced. Parents graciously stoop to understand the impact of experiences and situations on the family from the limited life experience and knowledge of their children.
A parent stays. He sticks with his children, sharing his life with them through hard times and good times. When times are difficult, a parent who stays will keep his children in his hands, protecting their innocence and emotions as much as possible. He will not only stand with his children through the joys of accomplishments and the pride of achievements but through the sorrow of disappointments and the confusion of transitions as well. A parent who stays will lean into the relationship with his children if they begin to stray. He will graciously stay with his children when they have to endure the consequences of their negative behavior. A parent who stays communicates that no matter what, good or bad, through thick or thin, he will always remain available to his child.
Yes, a family shepherd stands, stoops, and stays. In doing so, he lives out the image of the Heavenly Father in the presence of his children. So, parent in the image of our Father. Stand firm. Stoop down. Stay…always stay.