Book Review: Generation to Generation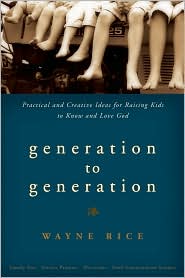 Family is the ideal environment in which to teach a child right from wrong and the value of relationship. Unfortunately, many families seem to abdicate this responsibility to churches, schools, and various clubs. Wayne Rice, youth worker, ministry consultant, and parent, calls families back to their role as leader in teaching values to our children. In Generation to Generation, he challenges parents to accept their unique position as spiritual leaders in their family, restoring their role as spiritual guide for their children. The material in the book was originally designed for a workshop presented by HomeWord, making it fast paced and easily digested.
I appreciate several key aspects of this book. First, the author emphasizes the unique role and position of parents to "train up their child." No other person or institution carries the same relationship, has the same invested interest, or spends the same time with a child as that child's parents. Parents stand in a unique position, with unprecedented opportunities, to train their children in a manner no one else can even compare. Taking advantage of this opportunity demands that parents make a long-term commitment to connect with their family. Although this investment takes time and effort, the dividends are compelling and eternal–you don't want to miss out on the results of this investment.
Generation to Generation offers a look at potential long-term family goals as well practical ways to connect with your children on a daily basis. This book also includes an excellent chapter on communicating family values to your children. Throughout Generation to Generation, Mr. Rice offers dozens of practical ways to connect with your children and instill family values into their lives. Overall, any parent who desires to raise children who "know and love God" will find this book an excellent and practical addition to their parenting toolbox, one they will constantly pull out to reference and use.

Book Available at Our Favorite Picks