An Amazing Moment of Creating Power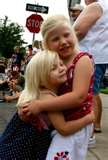 There are moments that hold great power in your marriage and family. One moment in particular holds amazing power for your family. This moment occurs multiple times throughout your day. It happens when you are preparing your breakfast and your spouse or your child walks into the kitchen. It arises when your child bursts through the door upon returning home from school. It occurs when your spouse returns home from work or grocery shopping or working in the yard and walks into the room where you sit. Have you identified this powerful moment yet? It is a moment of greeting, of reuniting.
The moment of greeting is a powerful moment. A simple greeting starts the process of interaction. When we greet our spouse or children, we have opened the door to creating an experience together. We have created the opportunity for connection. This opportunity for connection grows as we continue the interaction and shapes the whole environment of our home.
Consider this study, published in January 2007 , that looked at emails in two organizations. One organization was struggling with conflict, low morale, and turnover. Their emails were short and simply offered information. They did not even include a simple greeting of "Hi" plus the person's name. The email sent the implicit message of business is top priority and people are secondary.
The other company had a "very positive culture." Their emails included greetings, a "widespread use" of "Hello" plus the person's name. It seemed to communicate that people mattered and staff was valued.
We want to build a family environment that communicates value to each family member. We want our family to know they matter; that we value them. Communicating this important message begins with a greeting.
"Hi, how are you doing?"
"Hey, how's the yard work going?"
"Look at you. What has you so excited?" "Hello. How was work?"
You pick the question and the greeting. Whatever greeting you choose, that greeting opens the door for connection. And as you both follow the question with a conversation, you create relationship by getting to know one another better.
Would you like to build a deeper connection with your spouse? Maintain a connection with your teen? Enjoy connection with your family? It all begins with that amazing moment of creative power—the moment of greeting.