Spread the Happy Contagion…of Kindness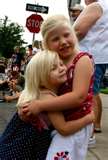 Couldn't the world use a little more kindness these days? I know I'm in favor of increasing the kindness around here—in my home and my community. And, I have a plan to do it, starting with my family. I'm going to show kindness to as many people as I can every day. I'm going to engage in simple things—things like holding the door open for someone, saying "thank you," helping to carry groceries, offering assistance whenever I can, smiling—you get the idea, simple acts of kindness.
You may be asking, "What good will one person showing kindness do?" First, it will do wonders in our families. Even more, as we practice kindness in our families, it will spread beyond our families to our communities because kindness is contagious. A recent review of 88 studies involving 25,354 participants over the last decade revealed that being nice to others is highly contagious.  Note those last two words…"highly contagious." This review pointed out a couple of important facts about the contagion of kindness.
Helping others increases our happiness more than helping ourselves does. Interesting, isn't it? Start practicing kindness toward others. It's for your own good.
Seeing other people benefit from kindness motivates us to share kindness more than receiving kindness ourselves. So, let your children see you being kind to their other parent. Let your spouse see you being kind to your children. Let your family see you being kind to those in the community. It will motivate them to engage in acts of kindness as well.
People don't just imitate acts of kindness they see others perform. They modify, improvise, and adjust those acts of kindness. They create their own acts of kindness. Seeing kindness inspires them to engage in kindnesses beyond what they saw.
Yes. I am going to do it. I am going to increase my kindness within my family and my community. My spouse and children will witness this kindness and be inspired to engage in their own acts of kindness. I will witness their acts of kindness and be inspired to engage in even more kindness. The upward cycle will begin. Even our neighbors will witness our kindness and catch it. The contagion will grow and perhaps, in time, we will have a community of people engaging in kindness. Wouldn't that be a change? A miracle? A relief! Will you join me?