The Family That Laughs Together…
My family loves to laugh. Just last Friday we were walking back to the car after eating dinner at a local fish fry when my daughter said something that struck her older sister's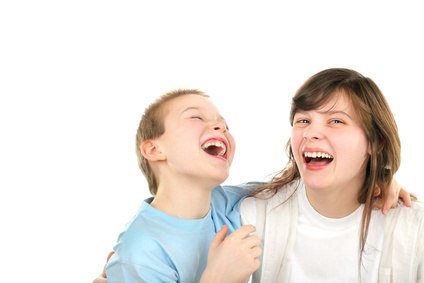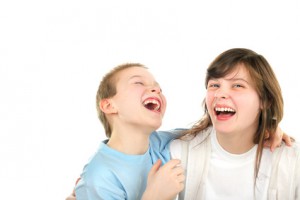 funny bone. She started laughing. She laughed so hard we had to stop walking to allow her to wipe tears of laughter from her face. Several weeks ago we were enjoying a little jovial banter around the dinner table when something struck my wife as funny. She started to laugh. My oldest daughter caught the "bug" and joined the "laughter contagion." My youngest daughter and I looked at each other before sitting back with a chuckle to watch them roll around and cry in laughter. (PS—this happens a lot at our house…my youngest daughter and I actually instigate it when we can). And, we love it. I love to see my family laugh. I love to laugh with them.
Laughing together creates wonderful memories filled with unconditional acceptance. Laughter within a family indicates a feeling of acceptance, a sense that one is safe enough to "let go" and laugh. Laughing together bonds us together, increasing "group cohesion." Who doesn't want to belong to a family filled with memories of warm acceptance experienced in laughter?
Laughing together replaces fear and shame with togetherness, hope and well-being. It reframes fear into moments of acceptance and events that we can manage and resolve, even laugh at. It releases shame and replaces it with the knowledge that we are accepted in spite of our shortcomings, mishaps, and failures. Laughter also increases hope, self-esteem, and well-being.
Laughing together builds a sense of safety for everyone present. If we can laugh together, we can approach one another with humor and resolve differences together as well. After all, laughter enhances problem-solving ability, creativity, and perspective. We can all feel safer knowing we approach differences with the creativity and perspective provided by a good sense of humor and laughter.
Laughing together is contagious. One person with a genuine laugh will bring at least a smile to the face of each person present. As that smile turns to laughter, our lives become entwined in the joy of the moment. We become more intimate as moments of laughter release the frustrations, tensions, and even anger that separate us.
A family that laughs together stays together. So look for those moments when you might share a good laugh with your family…and let it out. Laugh it up…together. (If you have trouble finding something to laugh about, watch this video with your family.)