3 Tips to Motivate Your Child
What did you do as a kid just for the fun it? I remember spending hours riding my bicycle. On the other hand, cleaning my room was not very fun or motivating. I recently read a review that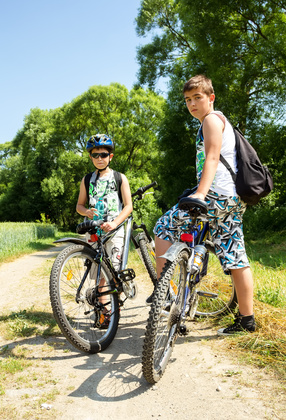 described 3 factors that help build internal motivation. Contemplating these three factors (yes, I know–who contemplates motivation "just for the fun of it"), I could see why bike-riding was motivating and fun for me. First, bike-riding gave me a sense of competence. It was easy enough that I could do it; but it also presented challenges. For instance, could I make it up the next hill or would I have to get off and walk part way? If I did not make it up the hill one day, could I make it by the end of the week? How long will it take me to get to my destination…and can I shorten that time over the next couple of trips? Each of these challenges presented an opportunity to grow more competent and efficient as a bike-rider. A growing sense competence motivates people.
Second, riding my bike gave me a sense of autonomy. I was on my own. I could make choices about where to go, what path to take, and how fast to travel. The choices were mine! I had the "wind at my back and the sun on my face." An adventure awaited around every bend. One time I was even "tailed" by an army helicopter. Later, I discovered it was my uncle, but the adventure of fleeing before an unknown army helicopter was exciting. Yes, riding my bike gave me a sense of autonomy, filled with choices and adventures. 
Third, I often rode my bike to visit friends…or, I rode with friends. Bike-riding helped me connect with other people. Where ever we went, my friends and I could stand around our bikes and talk.  Riding my bike was a ticket to connection, a journey to relationship.
You can see why I was motivated to ride my bike. It gave me a growing sense of competence, personal choices that built autonomy, and the opportunity to connect with friends. Cleaning my room, on the other hand, did not instill a sense of competence and presented no real challenge. I usually had to do it in response to my mother's directive–I had no choice and no sense of autonomy. And, cleaning my room did nothing to enhance my relationships. My friends weren't even allowed in my room. I know cleaning my room was, and is, important; but it is just not very motivating. But, could a parent use these three factors to help motivation their children to do things like clean their rooms? I think it might work. Consider these tips:
Help your child build a sense of competence or independence by allowing your children the opportunity to help with chores and jobs that present some challenge. Instead of simply "picking up the clothes," let them help paint the bedroom, devise a new plan for storing their clothes (check out this fun theory video for ideas in this area), or make it a game in which you score points based on speed combined with efficiency and final cleanliness. We once attached each task of a morning routine to a puzzle piece for our preschool daughter. She then faced the challenge of finishing her morning routine to see what picture she produced with the puzzle pieces. She loved it…and the morning routine suddenly became easier. Do whatever you can think of to make the chore more of a challenge. Of course, some chores are simply boring. But if we can find creative ways to make more of them exciting, maybe the boring ones won't seem so bad.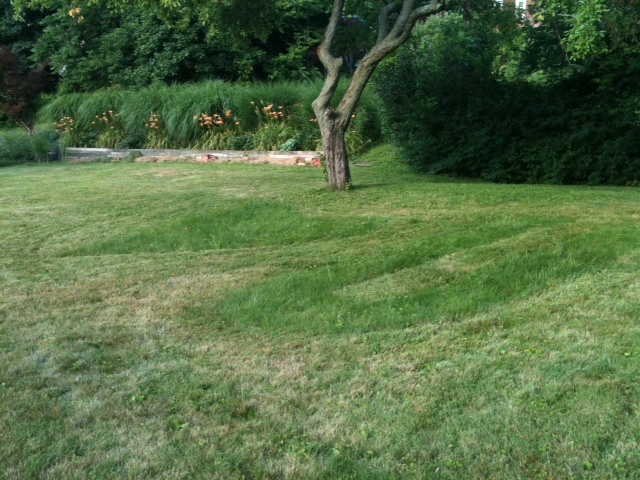 To help your child develop a sense of personal autonomy, give them options and choices. Let them choose when to complete a chore, which of two necessary chores they will do for you, or how to do a chore. I like to cut the grass–sometimes in vertical rows, sometimes in horizontal rows, sometimes in a square, sometimes in diagonal rows, and sometimes I even start with letters (see the picture on the left for a message I recently left in the lawn for my wife when she returned from a trip). Either way, the grass still gets cut. Let your children have the same freedom in completing their chores. Teach them that they have options and choices.
Use chores to build connection with others by doing some chores with your children. Chip in and enjoy working together in the yard. If you plan on painting something, have a paint party with pizza and pop that your children, their friends, you, and your friends can all enjoy. Sing a song together while working. Enjoy working in groups to complete volunteer work in the neighborhood as well. Use your imagination to discover more ways to build connection by having fun working together.
I know that children will still not enjoy every chore…who does? But attempting to incorporate these three ideas into some of the household chores may help reduce their resistance to chores in general. And, your whole family might have a little fun in the process.