The Attachment Connection: Parenting a Secure & Confident Child Using the Science of Attachment Theory  by Ruth P. Newton, PH.D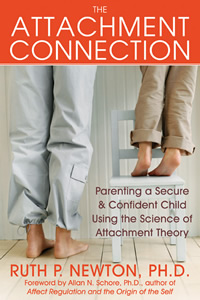 Ruth Newton, PHD, offers a excellent parenting advice for those who have children from birth through four years of age. In The Attachment Connection, she provides a wonderful and understandable overview of attachment and parent-child bonding as well the role of both the mother and the father, the importance of non-verbal communications, and how all this impacts the child's overall development. She then offers practical ideas to help parents build secure relationships with their children from birth to four-years-old, giving specific information for newborns, two-months-olds, four-months-olds, six-months-olds, nine-months-olds, twelve-months-olds, eighteen-months-olds, two-years-olds, three-years-olds, and four-years-olds. For each age group, she presents the reader with tables that point out developmental expectations, new skills to watch for, and games to promote development. Dr. Newton presents all this information in a fun to read format and offers practical examples to further explain each idea she presents. This is one of my personal favorites when it comes to parenting books and books about attachment. An excellent and very practical book.

Book available at Our Favorite Picks.