"Kingdom Family"-Another Great Family Camp Weekend
Just came home from the 2017 family camp weekend at Camp Christian. If you weren't there, you missed a great weekend of fun, fellowship, and learning of God's will for our family lives. Ken and Laurie Muller honored us with practical teaching focused on becoming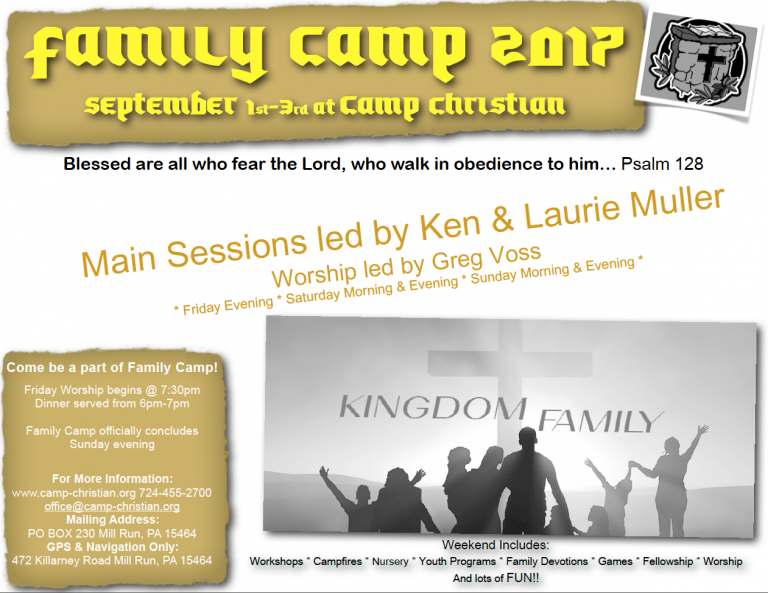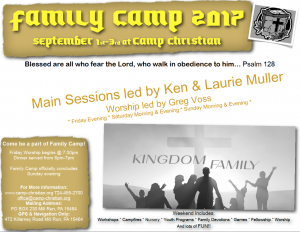 part of the "Kingdom Family." Using Psalm 128:1 as the primary verse, they described our "one job:" to walk and obey. We also learned about the importance of balance in our lives as we had the chance to walk a "tightrope" that was simply drawn on the ground. Although walking the tightrope drawn on the ground proved nearly impossible, the balance in our lives and our families can be found through the three P's of prayer to God, provision from God, and peace by God. We then had the opportunity to ride a "bicycle built for two" (really, we got the chance to ride a tandem bike) and learn how communication helps us keep our balance as a couple. We also learned how the three R's (respect one another, respond to one another, and react to problems with love) help our family run like a well-trained team…with an honoring voice and attitude proving an important aspect of precision teamwork. We even had a visiting knight, William, who encouraged us to be strong in our faith by wearing the full armor of God.
You can see we learned a lot…and we had a lot of fun. I love to see families smiling, laughing, sharing, and worshipping together. And I observed of all four this weekend. As the weekend came to an end, Ken and Laurie gave us "carry out orders" to go. (How often do you get to leave camp with a Chinese takeout container?)  This "carry out order" is a great tool to help us "carry out the orders" of our King, making us stronger kingdom families! Like a said, if you didn't get to be with us this weekend you missed a great weekend of fun, fellowship, and learning how to live as a "Kingdom Family."
Jim and Terry, thanks for organizing another great weekend. Ken and Laurie, thank you for sharing God's wisdom in such a practical and meaningful way this weekend. And, thanks to "Bald Greg and the Dirty Pirates" (the name given our worship leaders by one of "bald Greg's" students) for leading us in wonderful times of worship. I'm already looking forward to next year.